SUPER SIX OD JUNIORS HELP ENGLAND WIN
Congratulations to Harrison McCartney, Aimee Morse, Julie and Rachel Emmerson, Matt Elkington and Will Gardner for great performances representing England this weekend at the Junior Home International Orienteering Championships in Northern Ireland. The six club juniors joined 18 other 14 – 18 year olds from around England to produce a fantastic comprehensive win over Scotland, Wales and Ireland in both the individual and relay events.
On Saturday at the individual event in Co Fermanagh the low mist and tricky open hillside did not deter Harrison McCartney M14 who had an outstanding individual win coming 1st on the 3.52k course in 29.43mins, over 2 minutes ahead of 2nd placed English team mate Tim Morgan. Aimee Morse W14 was placed 4th taking 35.16mins to run her 2.72k course and Julie Emmerson W16 5th on her 4.19k course in 47.43mins.
The relays on the Sunday were staged at Necarne Equestrian centre and much of the course was on open parkland allowing spectators great viewing opportunities. England excelled with the boys and girls teams taking the top 3 places. Harrison McCartney ran well coming in 1st on his leg and with his two England team mates ensured 1st place in the boys relay team and good performances by Matt Elkington and Will Gardner put their team in 2nd place just 3mins behind. The top three girl's teams, from England, were only separated by 6 seconds and the winning team of Julie Emmerson (1st on her leg) and Aimee Morse, joined by Zoe Harding, won by only 1 second!
Andy Emmerson, club captain, said how pleased he was to see so many juniors from the club being selected to represent England and achieving such great results.
For full results of the JHI see the NI Orienteering website.
With many club juniors running this weekend in the British Schools Score Championships in the New Forest the club staged two events at Elmdon and Hillfield Parks, Solihull, with extra coaching and support. At Elmdon Park on the short 2k course Oliver Weaver M16 came 1st in 23.02mins and on the long 5.3k course William Gardner M18 won in 34.41mins. The score event, punching a maximum of 30 controls in under 60 mins was won by Alan Segar M35 30 controls in 51.19mins, Anne Straube W35 30 controls was 2nd in 55.50mins and Penny Oliver W16 3rd 29 controls in 59.28mins.
Hillfield Park was the setting for the Tony Haw charity event and raised over £290 for Leukaemia Research. The 60 minute event with 32 controls was won by Barry Elkington M55 who punched all 32 controls in 46.30mins. Also punching all controls was visitor Clive Wilson from South Yorkshire 2nd 51.19mins and Stephen Elkington M14 3rd in 52.43mins.
4th October 2011
SIX TEAMS WIN TROPHIES AT WEST MIDLAND RELAYS
Congratulations to club members who turned out for the club at the West Midland Relays held at Pelsall Common, near Walsall, on Sunday. Sixteen teams entered 13 of the 14 classes and came away with a great total of 6 trophies.
The winning teams were: Junior Women - Heather Rogers, Ella-Rose McCartney and Gursimran Kullar, Intermediate Women – Francesca Slade, Tamsin Alcock and Lizzie Davies, Intermediate Men – Harrison McCartney, Jeremy Knott and Alastair Gardner, Open Men – Calum Barnetson, Alan Segar and Will Gardner, Senior Women – Clare Scott, Suzanne Humphries and Liz Cross, Super Veteran Women – Sue Hallett, Hilary Simpson and Sue Bicknell.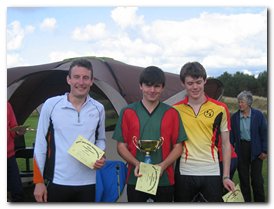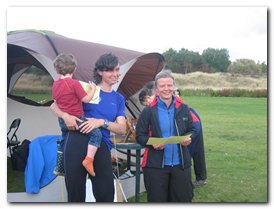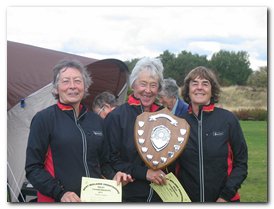 At the Caddihoe Chase, a two day event, held at Burrator, Southern Dartmoor, Lesley Ross W40 and Matt Elkington M16 were overall winners in their classes and Stephen Elkington M14 came 2nd. Julie and Rachel Emmerson had great runs on the Green courses, at the Dales Weekend, another 2 day event. Julie was awarded 1st place after completing both days and Rachel came 4th.
Congratulations to club member Matt Halliday M20 who has been awarded a Talented Athlete Sponsorship Scheme award for 2011/12. He is one of the seven athletes from British Orienteering who have been given this award who have shown potential to be world class performers at the World Championships to be held in 2015 in Scotland.
20th September 2011