BRITISH SCHOOLS CHAMPIONSHIPS
The annual British Schools Orienteering Championships were held this year at Witton Country Park, Blackburn, in Lancashire. It was great to see club juniors compete representing Warwickshire schools at this prestigious event.
Ten juniors competed in the Kenilworth School team and earned the school a very good 5th place in the Large Secondary school category. All the juniors ran well and top 10 places were achieved by Florence Lunn Year 9 and Nathan Chapple Year 11 who were both 6th in their individual Boys and Girls year classes. Oliver Flippance was 9th Boy in Year 12, Tabitha Lunn 9th Girl Year 9, Oliver Lunn 9th Boy Year 12 and Felix Lunn 10th Boy Year 12. Especial congratulations to the Kenilworth teams of Florence Lunn, Tabitha Lunn and Isla Prince who came 2nd in the Girl Year 9 team and to Oliver Flippance, Oliver Lunn and Felix Lunn who were also placed 2nd in the Boy Year 11 age class.
Pippa Smart competing for Myton School was placed 7th Girl in Year 11 and Josie Smart 14th Girl in Year 9.
Results from around the country this weekend: The Night event organised by Harlequins and City of Birmingham Orienteering Clubs at Banners Gate in Sutton Park, Sutton Coldfield, saw Will Gardner M21 score the maximum 200 points finding all the controls in a time of 49.35mins. In 2nd place was Duncan Birtwistle M21 also scoring 200 in 57.51mins. Sam Leadley M18 was 9th with 130 points. At Black Park, a country park near Uxbridge, organised by Berkshire Orienteers, Lesley Ross W50 was 3rd in 49.02mins on the Blue 6.8km course. At Bagworth, organised by Leicestershire Orienteering Club, David Steele M21 was 2nd on the 5.4km course in 53.22mins. Bruce Bryant M60 won the medium 4.2km course in 42.49mins and Liz Phillips W50 was 2nd in 46.12mins.
WEST MIDLANDS CHAMPIONSHIPS AND GB SQUAD SELECTION
Telford Town Park, was the venue for the West Midlands Championships, and many club members competed to win trophies, at the event organised by Wrekin Orienteers. The club juniors thoroughly enjoyed the experience and many competed in this championship for the first time.
Mat Bambrook, whose first orienteering experience was running on the beginners course at Brueton Park in Solihull last July, only 18 months ago, was the declared West Midlands Champion in the M14 class with a time of 42.39mins on the 3.7km course. Lewis Oxtoby M14 was 2nd in 48.43mins.
Oliver Flippance was declared M16 champion taking 35.01mins on the 4.4km course and Jacob Oxtoby M16 3rd. Sam Leadley was the winner of the M18 class taking 58.35mins on the 6.7km course. Josie Smart W14 was the champion on the 3.7km course taking 49.26mins and sister Pippa was 2nd W16 in 58.36mins on the 4.4km course. Ruben Jeffries was 4th in M10 class.
In the Men's classes Rob Bambrook was M45 winner on the 6.7km course taking 59.28mins, Chris McCartney 2nd in 59.53mins and Tom Jeffries 4th in 61.49mins. Bruce Bryant was 2nd M60 in 64.22mins on the 4.4km course. The winner of the M65 4.4km course was Stan Alexander in 43.22mins and Keith Willdig 2nd in 44.24mins. Peter Carey was 2nd M70 on the 3.8km course in 45.23mins and Mike Hampton 5th in 59.18mins.
Kirsten Strain led the field on the W21 class taking 59.21mins and Harriet Lawson 3rd in 69.35mins on the 6.7km course. Liz Phillips was 4th on the W50 course, Rachel Alexander 3rd on the W60. Margaret Willdig was 2nd W60 in 59.12mins on the 3.8km course. Sheila Carey won the W70 class in 47.12mins on the 3.8km course and Karin Kirk was 3rd.
The West Midlands Relays trophies were presented at the Telford event and there were many OD team winners: Mini Relay - Oriana MacGibbon, Edward Powell, Sebastian MacGibbon; Womens Open – Kirsten Strain, Sophie Kirk and Harriet Lawson; Senior Women – Lesley Ross, Anne Straube and Juliet Soulard; Vet Women – Jill Emmerson, Liz Phillips, Margaret Willdig; Womens Super Vet – Jane Stew, Thelma Spalton and Sue Hallett; Junior Men – Giacomo MacGibbon, Matt Bambrook and Lewis Oxtoby; Open Men Alistair Landels, Will Gardner and Alistair Powell; Veteran Men – David Lawson, Barry and Andy Emmerson.
Congratulations to Will Gardner who has been selected to the senior GB Squad for 2019. He joins 24 other athletes, 14 men and 10 women who will be training together and preparing to compete in World Championships and other international competitions.
13th November 2018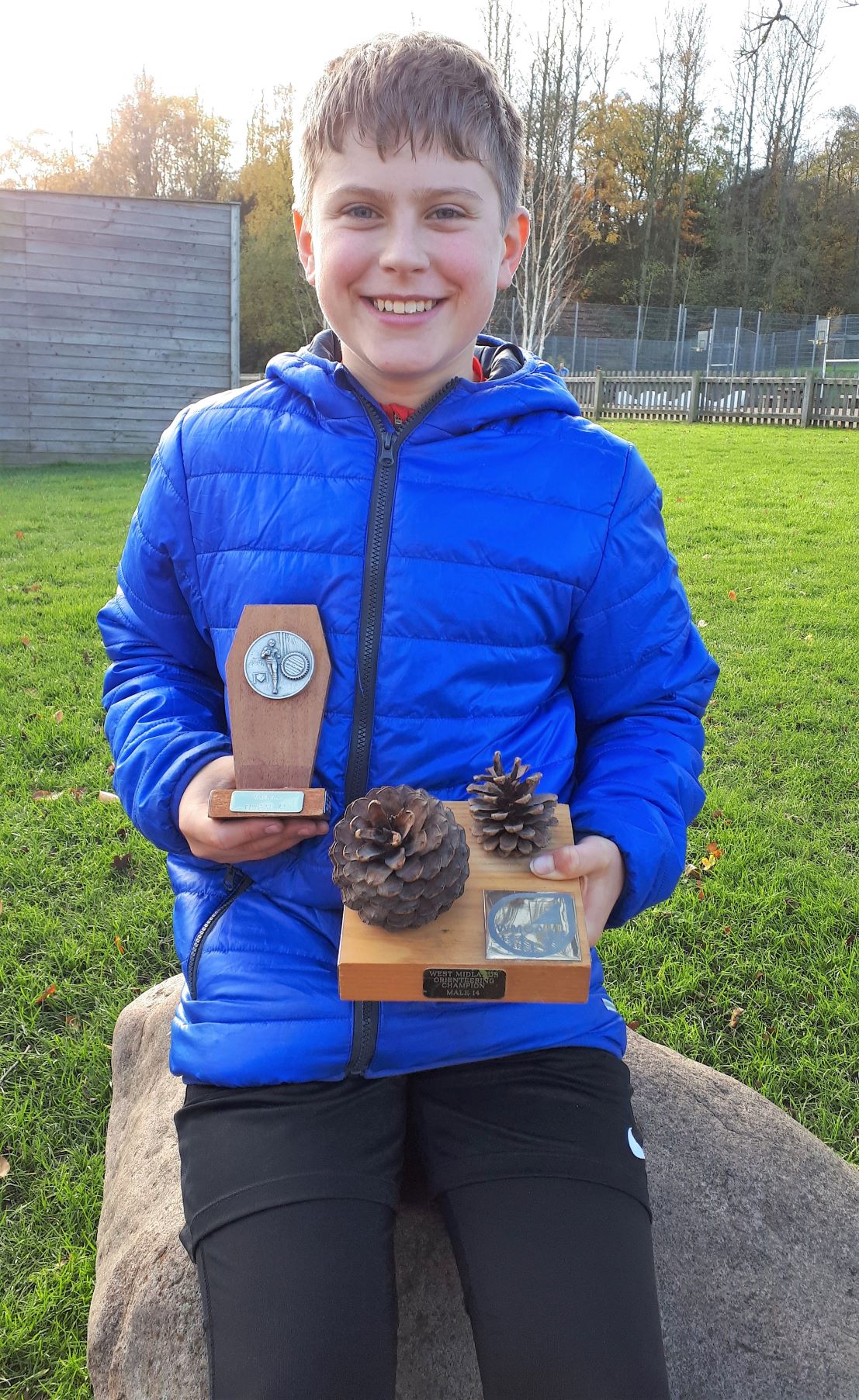 M14 Winner with his West Midlands Champion and Relay trophy.