The OD Club Captain is Andy Emmerson: This email address is being protected from spambots. You need JavaScript enabled to view it.
The OD Vice Captain is Suzanne Humphries: This email address is being protected from spambots. You need JavaScript enabled to view it.
Alternatively our phone numbers are on the membership list printed in the Droober magazine each year.
Andy co-ordinates the Yvette Baker Trophy, the Peter Palmer Relays, the JK Relays, the British Relays and the Laurie Bradley Trophy.
Suzanne co-ordinates the Compass Sport Cup and the West Midland Relays.
The Harvester entry is co-ordinated by whoever intends going and is prepared to take the lead - thanks to Matt Elkington for stepping up in 2012.
---
Photographic Policy
Given the concern expressed by some (although in general not orienteers) over the publication of photos containing juniors, I want to encourage all juniors who appear in photos in the Captain's Corner and their parents / guardians to check they are happy for the photos used to remain on display and also to note the captions and accompanying articles that do make it possible to link some names to images.
If anyone is at all concerned about what is shown / printed please contact me immediately and I will do whatever is necessary to ensure that their concern is resolved. Contact me at This email address is being protected from spambots. You need JavaScript enabled to view it. or call me on the phone number in the Droober magazine.
Andy
---
OD win the Yvette Baker Final for the third time in a row!!!!!!
Well done to all who ran for the club today and produced another fine victory. The results can be found on the Southdowns Orienteers website and from this link:
http://www.vuggles.plus.com/results/YB1209YS.htm
Photos (and there are some good ones) can be found at Rob Lines website
http://picasaweb.google.co.uk/orienteeringrob/YBT2009TilgatePark#
The area was excellent for this type of event and conveniently close to the end of the M23 to make the travelling easy. Southdowns Orienteers did a fine job and were efficient and very friendly throughout the day. Their new PA system was impressive (maybe we should have one too?) and the commentary provided by Ali Hooper only added to the occasion. So a big thank-you to SO for staging a fine event.
Top scores of 100 points were recorded by Harrison, Sophie K, Eleanor & Aimee; 99's from Rachel, Michael & Heather; 98 from Alex & 97 from Will gave us an unassailable total of 892 points. DEE were 2nd with 874 and SYO 3rd with 872. Many others chipped in with good scores that pushed the opposition down and made our lead secure.

Inevitably we were without a few of our regulars due to illness and other committments but we still prevailed due to our impressive strength in depth. It was great to be able to take so many juniors to this event and I'm sure many who did not feature in the "9 counters" this year will improve over the next 12 months and provide us with another opportunity to win the YBT again next year. Nottinghamshire won the YBT 4 times in a row a few years ago, so that is now our next target!

The bad news (if it can be called that) is that those juniors who were able to run down a class this year and finished in the top 10 will have to run their proper class next year. This is "right" for the event and we have time to help these juniors progress over the coming year. It also means that younger juniors will have the opportunity to shine even more brightly next year.
Thanks to all who came, and to parents and other supporting adults for their assistance too. And I'll reserve special thanks for the adults who helped out by coming on the coach and for the juniors who behaved impeccably throughout the coach journey.

I have several maps from the event that I shall take to the Club Champs on Saturday, the Walton Chasers event on Sunday and the OD Xmas party a week on Wednesday. If you are missing a map, please collect it from me at one of those locations.
I also have a few YBT Certificates left over so anyone who does not have one should get in touch with me to arrange delivery. I also have a single long black sock with "noname" in white lettering written thereon. It has been washed so if it's yours please get in touch.
Finally, a message from our world superstar to the juniors!
...........................................................................................
From: Graham Gristwood [mailto:This email address is being protected from spambots. You need JavaScript enabled to view it.]
Sent: 08 December 2009 08:51
To: Andy Emmerson
Subject: Congrats
To the team! Very proud as always :)
Graham
...........................................................................................
Andy
This email address is being protected from spambots. You need JavaScript enabled to view it.
---
OD win through to Yvette Baker Final
Sunday 15th November. OD Juniors today won through to the Yvette Baker Final by defeating HOC & WCH at Hay Wood. WCH also progress to the final by virtue of OD being seeded in this competition. Congratulations to them and commiserations to HOC.
It is great to have so many juniors running for the club and so many returning such good scores. The winning total of 896 is massive, with 5 maxs of 100 and 6 99's (any 4 of which count). The full results are available elsewhere on this website so read and enjoy.
The YBT Final will be on Sunday 6th December at Tilgate Park & Forest just south of Crawley. As this is a 2.5 hour journey I hope to arrange coach transport for all the juniors and several adults. Last year OD underwrote the coach hire so that cost was limited to £10 per person. The event entry fees were also paid to encourage participation. I hope to do the same again this year and will email out details ASAP.
We have won this event the last 2 years and should be capable of winning it again providing we get enough juniors mobilised. Would everyone who is interested in representing the club please email me straight away so that I can establish numbers before selecting a coach of the appropriate size?
Thanks and well done today!
Andy
PS Any unaccompanied juniors under 18 who use the coach will have to provide me with a completed Parental & Medical Consent form before they can get on the coach. You can download one from here: http://www.britishorienteering.org.uk/downloads/documents/coaching_safety_parentalandmedicalconsentform.DOC
---
OD finish in 2nd place in the 2009 CSC Final
So 2nd place for OD for the second year running. Thank you to everyone who turned out for the club and helped us put 2175 points on the scoreboard (compared with 2262 for SYO in 1st and 1956 for BOK in 3rd place). This result means we have been 1st or 2nd in each of the last 6 years - which is pretty impressive stuff. You can find the results at http://www.leioc.org.uk/
Top performances came from Sheila Carey and Matt Elkington (both 100 points), Jo Haliday (98), Dan Haliday, Sue Bicknell, Matt Halliday and Harrison McCartney (96), Iain Embrey, Jess Halliday, Sophie Kirk and Hamish Rogers (94).
Special thanks to all those who came from far afield to run for the club - remember you may be eligible for a travel allowance (as previously communicated), in which case it is now time to apply.
I made 3 predictions before the event: (1) SYO would win, (2) OD would be second, (3) HOC would be in the top 5. Unfortunately I didn't place a bet or I would be somewhat richer tonight........
I always felt SYO would be too strong for us and I think our only realistic chance of retaking the trophy next year is to get all our potential big points scorers out, which is always going to be a challenge AND to attract some more talent to the club. However, there is no reason why we cannot mount a similar challenge again and if the opposition becomes a little blase, we will be waiting.
Congratulations to SYO for their victory today and also to HOC, who were amazingly making their 1st appearance in the CSC final. Hopefully this was the first of many for them.

Thanks to everyone for paying their entry fees and SI dibber hire fees. I have now closed the accounts on this event.
I have a load of maps from today that I shall take to upcoming events but if anyone wants their maps passing on differently, please email me.
The next club event is the Yvette Baker Qualifier at Hay Wood on 15th November.

Andy
---
OD win the Peter Palmer Relay Trophy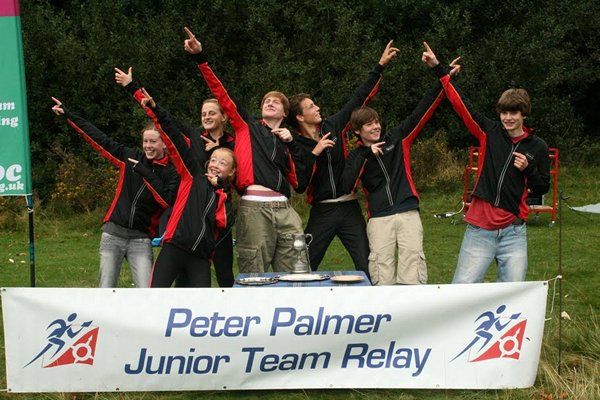 Photo courtesy of Robert Lines
Sunday 27th September 2009 and OD win the Peter Palmer Relay Trophy at Sutton Park, Birmingham for the first time ever. We have previously won the age handicapped Joan GeorgeTrophy but today it was the real thing. A marvellous achievement to add to our Juniors list of successes. We now hold both the Yvette Baker Trophy and the Peter Palmer Relay Trophy at the same time - so very well done to ALL the juniors who ran at Sutton Park.
OD fielded 3 teams, which was more than any other club managed. That meant I could not put out the strongest possible first team because of the need to juggle names to make up 3 viable teams, each including juniors who were prepared to run the night and dawn legs. Several juniors who did not run in the first team had justifiable claims for inclusion which is why I want to thank them all, even if they were not in the winning team this time. Added to this I wanted to make the other 2 teams eligible for the Joan GeorgeTrophy which meant the combined age of the team had to be 90 or less.
Here are the teams as they eventually ran:
| | | | | | |
| --- | --- | --- | --- | --- | --- |
| OD Ghouls | | | | | |
| 1 | William | Gardner | M | 16 | Red Night |
| 2 | Robert | Gardner | M | 18 | Red Dawn |
| 3 | Sophie | Kirk | W | 18 | Lt Green |
| 4 | Ben | Ross | M | 16 | Orange |
| 5 | Julie | Emmerson | W | 14 | Yellow 1 |
| 5 | Aimee | Morse | W | 12 | Yellow 2 |
| 6 | Matthew | Halliday | M | 18 | Green |
| | | | | | |
| OD Ghosts | | | | | |
| 1 | Matthew | Elkington | M | 14 | Red Night |
| 2 | Helen | Elkington | W | 16 | Red Dawn |
| 3 | Rachel | Emmerson | W | 14 | Lt Green |
| 4 | Emma | Kettley | W | 16 | Orange |
| 5 | Michael | Hanson-Morris | M | 16 | Yellow 1 |
| 5 | Stephen | Elkington | M | 12 | Yellow 2 |
| 6 | Guy | Ross | M | 14 | Green |
| | | | | | |
| OD Gremlins | | | | | |
| 1 | Matt | Morris | M | 18 | Red Night |
| 2 | Alastair | Gardner | M | 14 | Red Dawn |
| 3 | Amy | Oliver | W | 16 | Lt Green |
| 4 | Penny | Oliver | W | 14 | Orange |
| 5 | Tom | Ross | M | 12 | Yellow 1 |
| 5 | Zoe | Nicolson | W | 12 | Yellow 2 |
| 6 | Harrison | McCartney | M | 12 | Green |
All 3 teams finished, with no retirals or disqualifications which is a result in itself. Matt Elkington got his team off to a great start and was the first Droober back, closely followed by Will Gardner with Matt Morris not too far behind. Without these guys running in the dark, and our second leg runners (Robert Gardner, Helen Elkington & Alastair Gardner) running the dawn leg we could not put 3 teams out, so a big thank you to them for making it possible.
I want to give a particular mention to Ali Gardner, Harrison McCartney and Matt Halliday. Ali was press-ganged into running the Dawn leg for his team at the last minute; and despite being apprehensive about it he got the job done, so mega-thanks to Ali. Harrison was asked to run the 6km long last leg (Green) for his team and gave his all. He was absolutely exhausted when he finished but you wouldn't have known it as he steamed over the finish line, so a massive pat on the back to him too. And what can you say about Matt Halliday? He went out in second place behind MDOC (last year's winners and favourites again this year), something like 5 minutes 11 seconds adrift. By the spectator control he has reduced the deficit to 2 minutes 20 seconds but with only 2.3km to go. When he was pre-announced as being in the lead the tension went up another notch. Shortly after, he burst into the final approach with no-one in sight behind him, and crossed the finish line with well over 30 seconds to spare. That capped a great day for us.
I want to commend all the juniors for their exemplary behaviour throughout and to thank my fellow team leaders, Alan Halliday and Ali Oliver for sleeping (sort of) in a sports hall full of juniors and for ensuring everyone got to the start / change over area on time. Thanks also to Sian & Richard Gardner, Chris Morris and Mel Elkington for running the relay change-over and finally to Mel for delivering all the pizzas.
I hope some juniors reading this will be motivated to collaborate in writing a review of this event showing it from their point of view, perhaps with more emphasis on the orienteering aspect and on the social side?
Andy
---
Click to go back to the list of Captain's Corner articles