The OD Club Captain is Andy Emmerson: This email address is being protected from spambots. You need JavaScript enabled to view it.
The OD Vice Captain is Suzanne Humphries: This email address is being protected from spambots. You need JavaScript enabled to view it.
Alternatively our phone numbers are on the membership list printed in the Droober magazine each year.
Andy co-ordinates the Yvette Baker Trophy, the Peter Palmer Relays, the JK Relays, the British Relays and the Laurie Bradley Trophy.
Suzanne co-ordinates the Compass Sport Cup and the West Midland Relays.
The Harvester entry is co-ordinated by whoever intends going and is prepared to take the lead - thanks to Matt Elkington for stepping up in 2012.
---
Photographic Policy
Given the concern expressed by some (although in general not orienteers) over the publication of photos containing juniors, I want to encourage all juniors who appear in photos in the Captain's Corner and their parents / guardians to check they are happy for the photos used to remain on display and also to note the captions and accompanying articles that do make it possible to link some names to images.
If anyone is at all concerned about what is shown / printed please contact me immediately and I will do whatever is necessary to ensure that their concern is resolved. Contact me at This email address is being protected from spambots. You need JavaScript enabled to view it. or call me on the phone number in the Droober magazine.
Andy
---
The West Midlands League 2010
OD has won the 2010 West Midland League, so well done to everyone who has competed for the club at these events over the past year. The final club scores were:
| | |
| --- | --- |
| OD | 7203 |
| HOC | 6350 |
| WCH | 6188 |
| WRE | 5288 |
| POTOC | 3967 |
| COBOC | 2169 |
And the OD scorers were:
| | | | |
| --- | --- | --- | --- |
| Forename | Surname | Class | Score |
| Harrison | McCartney | M12 | 500 |
| Frank | Smith | M80 | 500 |
| Lesley | Ross | W40 | 500 |
| Sheila | Carey | W60 | 500 |
| Julie | Emmerson | W14 | 496 |
| Mike | Hampton | M60 | 492 |
| Ella-Rose | McCartney | W10 | 492 |
| Stephen | Elkington | M14 | 491 |
| Suzanne | Humphries | W45 | 490 |
| Hamish | Rogers | M14 | 485 |
| Janet | Richardson | W60 | 485 |
| Chris | McCartney | M40 | 470 |
| Andy | Emmerson | M50 | 457 |
| Barry | Elkington | M50 | 454 |
| Will | Critchley | M21 | 391 |
| | Score | | 7203 |
Thanks also to Lesley Ross for handling all the scoring for the WM League.
Andy
---
Compass Sport Cup Final 2010 - 27th October on Burbage Moor
Thanks to Suzanne for co-ordinating the Compass Sport Cup final; her report follows:
Hi Everyone,
A big thank you to everyone who ran for OD on Sunday, it was great to have so many of you there. I know many of you made a big effort just to get there .. let alone to get round the very physical courses! People made long journeys and turned out despite colds and injury. We were a great team and there were some brilliant runs but unfortunately it still wasn't enough to win back the cup. As I'm sure you've seen SYO maintained there lead on us and BOK managed to just creep ahead too leaving us in 3rd place.
There were some great runs on some very tough courses though. Special mention must go to Matt Halliday on winning the Blue Men's course by over 4 minutes with a further 4 minutes to 3rd place. And to our Men's open team which had our highest number of counters including a very impressive run by Will Critchley in finishing 3rd. Though there are numerous other people who had good runs worthy of mention, including Jessica Halliday and Amy Sarkies on the Blue Womens course, and Mike Hampton on the Green Mens course beating world champion Andy Hemsted in the process. Sheila Carey finished 5th on the Green Veterans course and Sue Hallett had a great run to finish 8th. Our juniors were as brilliant as ever, with Matt Elkington finishing 5th in a very competitive Light Green Mens course, Julie and Rachel Emmerson taking 2nd and 3rd on the Orange Womens course and Hamish Rogers and Harrsion Mc Cartney taking 3rd and 4th on the Orange Mens course. Particularly impressive by Hamish as it was his first time back running after nearly a month following a very nasty virus. Finally I'd like to mention Frank Smith who I think is amazing getting around that Green Veterans course. I saw the course afterwards and that was no mean feat.
The top 25 scorers for OD were
Will Critchley (98), Dan Halliday (94), Iain Embrey (92), Andy Simpson (90) and Iain Botheroyd (82) on Brown
Matt Halliday (100), Robert Gardener (94), Barry Elkington (77) and Andy Emmerson (75) on Blue Men
Jessica Halliday (90), Amy Sarkies (88) and Toni O'Donovan (80) on Blue Women
Mike Hampton (90), Bob Brandon (80) and Gerrry Spalton (76) on Green Men
Suzanne Humphries (82) on Green Women
Sheila Carey (96), Sue Hallett (94) and Janet Richardson (80) on Green Veterans
Matthew Elkington (84) on Light Green Men
Sophie Kirk (84) on Light Green Women
Hamish Rogers (92) and Harrison McCartney (88) on Orange Men
Julie Emmerson (96) and Rachel Emmerson (92) on Orange Women
Though I think everyone who ran deseves a mention as we wouldn't be the great club that we are without all of you. The full results if you've not already seen them can be found at http://www.southyorkshireorienteers.org.uk/results/2010-10-17-burbage/index.htm
That's it from me for now. You won't be receiving emails from me urging you to run for a couple of months now. But then I'll be calling for all of you to run at the CSC qualifier event on the 16th January at Sutton Park. We might not have won this year but I know we can. so let's keep trying.
Thank you
Suzanne
---
Yvette Baker Trophy qualifying event - 10th October at Swinley West, Brackell
OD juniors qualify for 2010 YBT Final - Thanks to all the club juniors who turned out and well done on progressing to the final again! There is a brief report in the Juniors Section
Andy
---
West Midland Relays 2010 - 19th September - 3 Trophies for OD
Thank you to everyone who turned out for the club at the WM Relays on Sunday. I certainly enjoyed it and I hope everyone who ran and supported us did too. The area did indeed turn out to be tricky in places and caught a few people out but there were also many star performances.
We had 16 teams entered competing in 11 of the 14 classes and came away with 3 wins, 2 seconds, 2 thirds and 2 fourths. The Juniors did us proud as always winning our only trophies on the day. Though we were within a matter of a couple of minutes of winning another 3 and would have won another 2 but for a couple of unfortunate mispuches. The winning teams were :
'it's a dODdle' in the Junior Women - Rachel Emmerson, Lizzie Davies and Aimee Morse
'hot rODs' in the Junior Men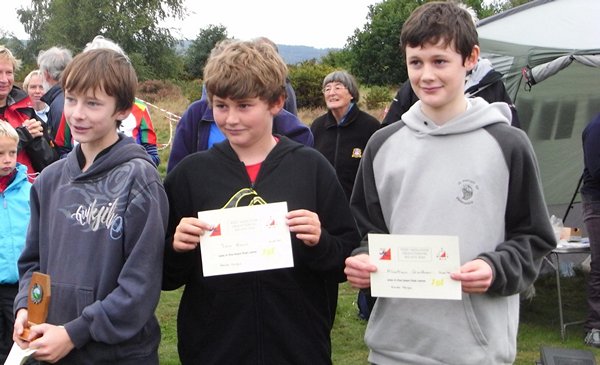 'mODern misses' in the Intermediate Women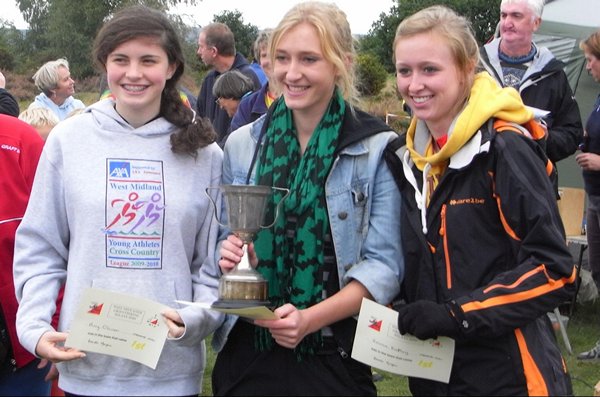 Our Mini relay team of Ella-Rose McCartney, Sophie Oliver and newcomer Sam Hart sprinted round, finishing before most classes had even started(!), but sadly weren't quite fast enough to beat WCH and finished second. As sadly did our Men's Open team of Will Critchley, Mark Beverley and Will Gardner despite a brilliant run by Will Gardner on the 3rd leg trying to hold off HOC.
There were also many other good runs in the other classes. And I would like to thank Hamish Rogers and Paul Furness for showing true dedication to the club and turning out despite colds. Please put your health first next time though, I'd rather it was me who had the headache from rearranging teams!
As well as Sam in the mini relay we also had several newcomers in the Ad Hoc classes which was good to see. They did very well on the tricky area and with the help of a couple of experienced orienteers, Mel Elkington and Bill Nicolson, took 3rd and 4th places. So things are looking good for next years relays. And I shall be asking Karin to specifically look out to recruit people to make up the 3 classes we couldn't enter this year!
The full results can be found at http://www.harlequins.org.uk/results/20100919_R3.htm
Thank you again to everyone who ran and supported us. And if you didn't, make a mental note to yourself to come next year, it is a great event.
Suzanne

---
Peter Palmer Relays 2010 - 5th September
See the Junior Section for a report on this event.
The Peter Palmer Relay Trophy was won by SYO this year, with OD 2nd and SARUM 3rd. OD also won the age handicapped Joan George Trophy. The successful team is shown below, with an over-age member lurking behind.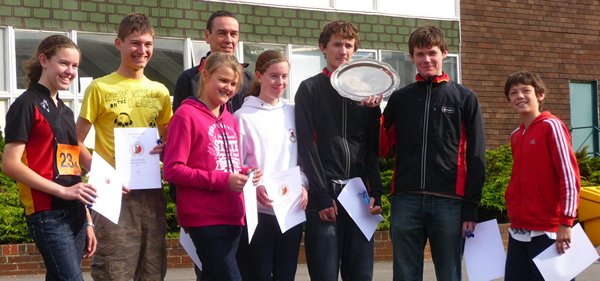 Photo: Claudia Hall.
---
British Championships 2010 report
There were a lot of good performances at the individual day. Here is my list of top 3ers:
M12A 2nd Harrison McCartney, M14A 3rd Hamish Rogers, M18E 4th Will Gardner (yes I know I said top 3 but it's an elite class), 1st M20E Matt Halliday, 3rd M55S John Middler.
W12A 2nd Heather Rogers, W14A 3rd Penny Oliver, W14B 1st Tamsin Alcock, 2nd Francesca Slade, 3rd Zoe Nicolson, W18E 3rd Sophie Kirk, 1st W18L Harriet Batten, 1st W18S Helen Elkington, 2nd W60 Sheila Carey.
British Relays 2010 report
We fielded 20 full teams (of 3) on relay day and enjoyed another successful British Relay competition, repeating our clean sweep from last year in winning the 3 youngest classes, plus there were good performances elsewhere.
1st place for the Mini Relay team.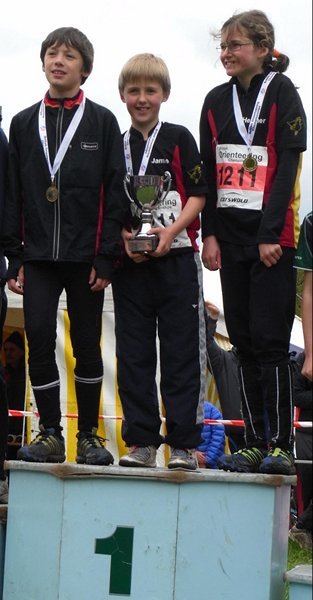 1st place for the W14 team.
1st place for the M14 team.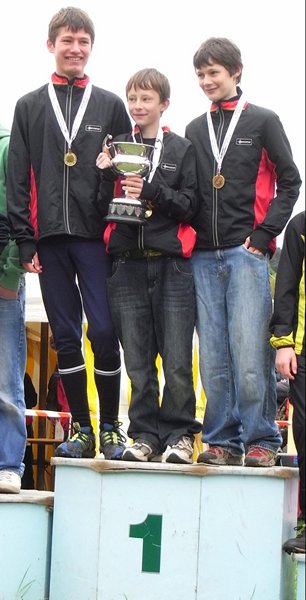 We had a excellent 3rd place finish in the Men's Premier (same as last year) with Dan Halliday , Matt Halliday & Will Critchley.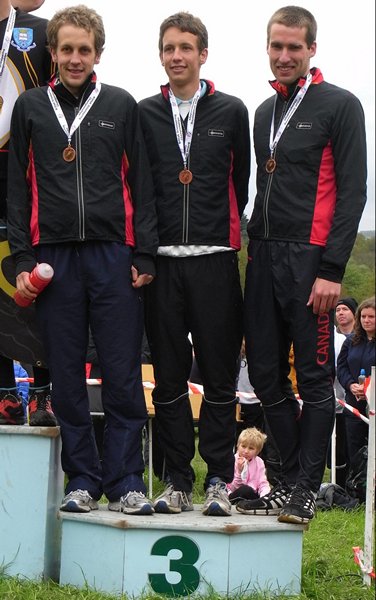 and an equally excellent 4th place in the Women's Premier with Sophie Kirk, Harriet Batten and Jo Halliday (these 3 must have been the youngest team in the competition with 2 W18s and a first year W21).
In the Short Men's class, Chris McCartney, Harold Wyber & Iain Embrey (with a stonking time) came 4th. Our W60 team of Sue Hallett, Sue Bicknell and Sheila Carey was also 4th, and looking at the other results could have finished 2nd if I had put Thelma Spalton in the team (sorry Thelma).

Unfortunately (in a way) the M/W60 class that we won last year is no more so that was one title we could not defend. I think the split into separate M60 & W60 is right considering how many people are now in those classes and no doubt there will soon be an M/W70 or 75 class too. I wonder how old the classes will get by the time I am into that age band?
UK Future Champions Cup Series
The prize giving for the UK FCC preceded the relay prize giving and provided another chance for OD to mount the podium. Sophie Kirk was 3rd in W18 and Matt Halliday was 1st in M20. Added to that, OD won the club team event with a team of Sophie Kirk, Robert and William Gardner & Matt Halliday. Well done to all.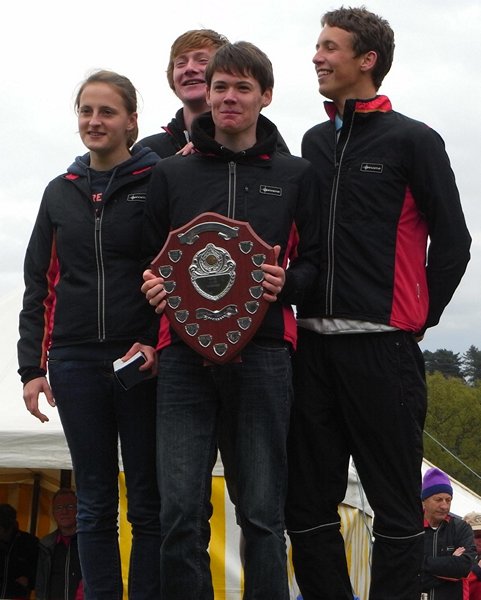 ---
JK 2010 Report
Well done to everyone who achieved a "top 5" finish on the 3 individual days. The "combined" table (for days 2 & 3) shows our JK champions and top 5 finishers. Congratulations to Ella-Rose, Harrison, Hamish and Les for winning this prestigious competition. Congratulations also to the 2 "B" class winners; Jamie and Zoe. There were several other fine results too - full details can be found at http://www.siresults.co.uk/2010/JK/
(If I have missed anyone with a top 5 finish out, please tell me.)

Congratulations also to Anne Straube for winning the Elite Trail O spanning Days 2 & 3.
We fielded 20 full teams (of 3) on relay day; thanks to Anthony Cross, John Middler and Phil Kirk for filling in. Our relay results were not quite as good as hoped for; what with injuries, unavailabilty and some uncharacteristic errors from within well-fancied teams. Our cause was also not helped by some map issue errors that resulted in people running legs of the wrong technical difficulty. The worst case for us was Zoe Nicolson finding herself on a Green course. She did really well to have a go at it on very technical terrain and hopefully it will have been an interesting experience for her, but this sort of organisational mistake really should not happen at an event as important as the JK. In the end it fell to the W48- teams to provide the glory with 1st and 3rd place (damn those Norwegians!), so well done to Harriet, Heather, Sophie, Rachel, Julie & Emma for flying the OD flag.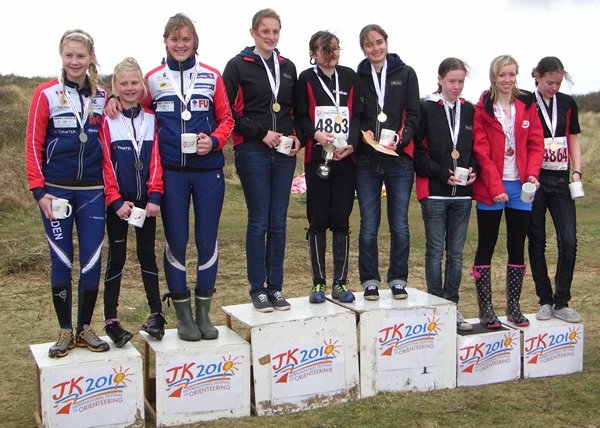 Andy
---
Great news as .......
OD WIN Compass Sport Cup 2010 Qualifer
Here is the final club scorecard as displayed on the HOC website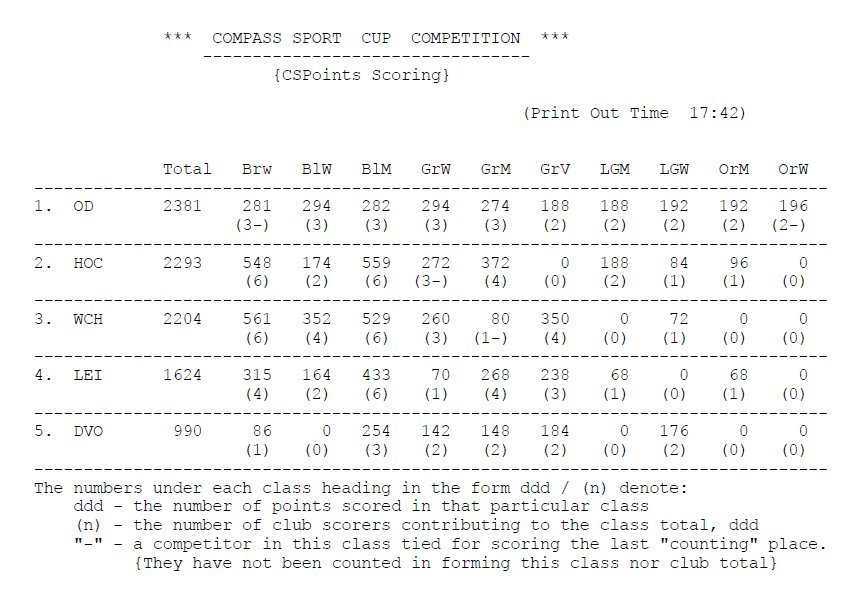 We had a tremendous turn-out on the day. Thank-you one and all!
The table below shows the 25 OD counters; set to correspond to the club scoring shown above.
We had 6 maximum scores and an even spread of counters across all age groups. The "100 club" members were
Les Ross, Matt Halliday, Jane Halliday, Sophie Kirk, Harrison McCartney and Julie Emmerson.
Check out the full results on the HOC website (and see how dominant we were in the junior classes).
This further illustrates just how good our juniors are - as if there was any doubt!

Each person in the table below againt whom a points tally shows in the "Total" column counted in the 25 club scorers.
Chris McCartney scored the same as John Ward (88) so could equally have been taken as one of the 25 to count.
Rachel Emmerson scored the same as Stephen Elkingon (92) so could equally have been taken as one of the 25 to count.
Helen Elkington (88), Ali Gardner (88) and Aimee Morse (88) also returned scores that matched some of the "counting scores" but did not count in the 25 because of the rules that restrict the number of counters in each class.
| | | |
| --- | --- | --- |
| | Individual | Total |
| Brown | | |
| Dan Halliday | 99 | 99 |
| Iain Embrey | 93 | 93 |
| Dave Thacker | 89 | 89 |
| Chris McCartney | 88 + | |
| | | |
| Blue Women | | |
| Les Ross | 100 | 100 |
| Marie Hauerslev | 98 | 98 |
| Jo Halliday | 96 | 96 |
| | | |
| Blue Men | | |
| Matt Halliday | 100 | 100 |
| Barry Elkington | 92 | 92 |
| Andy Emmerson | 90 | 90 |
| | | |
| Green Women | | |
| Jane Halliday | 100 | 100 |
| Suzanne Humphries | 98 | 98 |
| Liz Phillips | 96 | 96 |
| | | |
| Green Men | | |
| Mike Hampton | 94 | 94 |
| Bob Brandon | 92 | 92 |
| John Ward | 88 | 88 |
| | | |
| Green Vets | | |
| Sheila Carey | 98 | 98 |
| Janet Richardson | 90 | 90 |
| | | |
| Light Green Men | | |
| Matt Elkington | 96 | 96 |
| Will Gardner | 92 | 92 |
| | | |
| Light Green Women | | |
| Sophie Kirk | 100 | 100 |
| Emma Kettley | 92 | 92 |
| Helen Elkington | 88 £ | |
| | | |
| Orange Men | | |
| Harrison McCartney | 100 | 100 |
| Stephen Elkington | 92 | 92 |
| Alastair Gardner | 88 £ | |
| | | |
| Orange Women | | |
| Julie Emmerson | 100 | 100 |
| Penny Oliver | 96 | 96 |
| Rachel Emmerson | 92 + | |
| Aimee Morse | 88 £ | |
| | | 2381 |
The large turn-out is always a tremendous bonus as it provides a safety cushion for those who have an imperfect run.
It was a true team effort, and it was needed to overcome the stiff competition provided by HOC, who will also return to the CSC Final in 2010 - so congratulations to them too.
Many thanks to all who went, all who counted, and all who pushed opposition runners further down the results list.
And remember that even if your run was personally disappointing, you are still part of a winning team and next time you could be in the points too!
Andy
---
Laurie Bradley Trophy 2010 New Years Day Score Event - Rough Wood
Many thanks to Alan Halliday for deputising as captain on the day. The words that follow were penned by Alan ......
Well done all those who turned out to run at what wasn't quite such a bad area after all. The weather was good (but cold) and in the end, with a very depleted team – we only lost to HOC by 30 points! If only……………………! Some very good runs by lots of people particularly juniors. Sophie top junior. Bill, Mike and Sophie top equal OD scorers. Results went up on the HOC site a few minutes ago.
HOC 6110

OD 6080

WRE 5690

WCH 5000

COBOC 610

POTOC 490



---